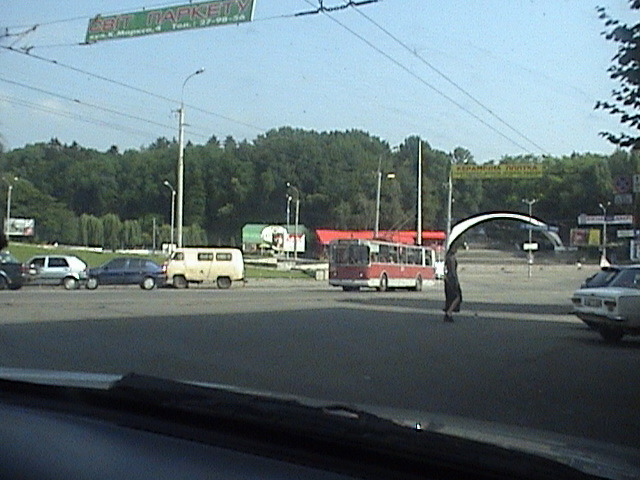 A Trolley Bus System passing by the Park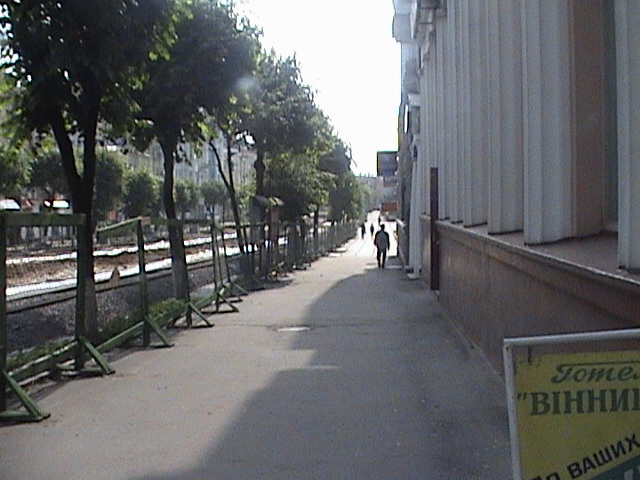 At the Street Soborna facing south
@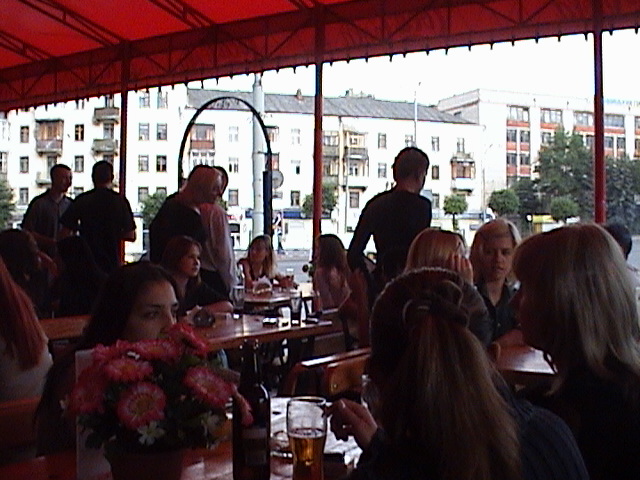 A Restaurant we called the Coca Cola Restaurant because of the umbrellas with the Coca Cola name on them.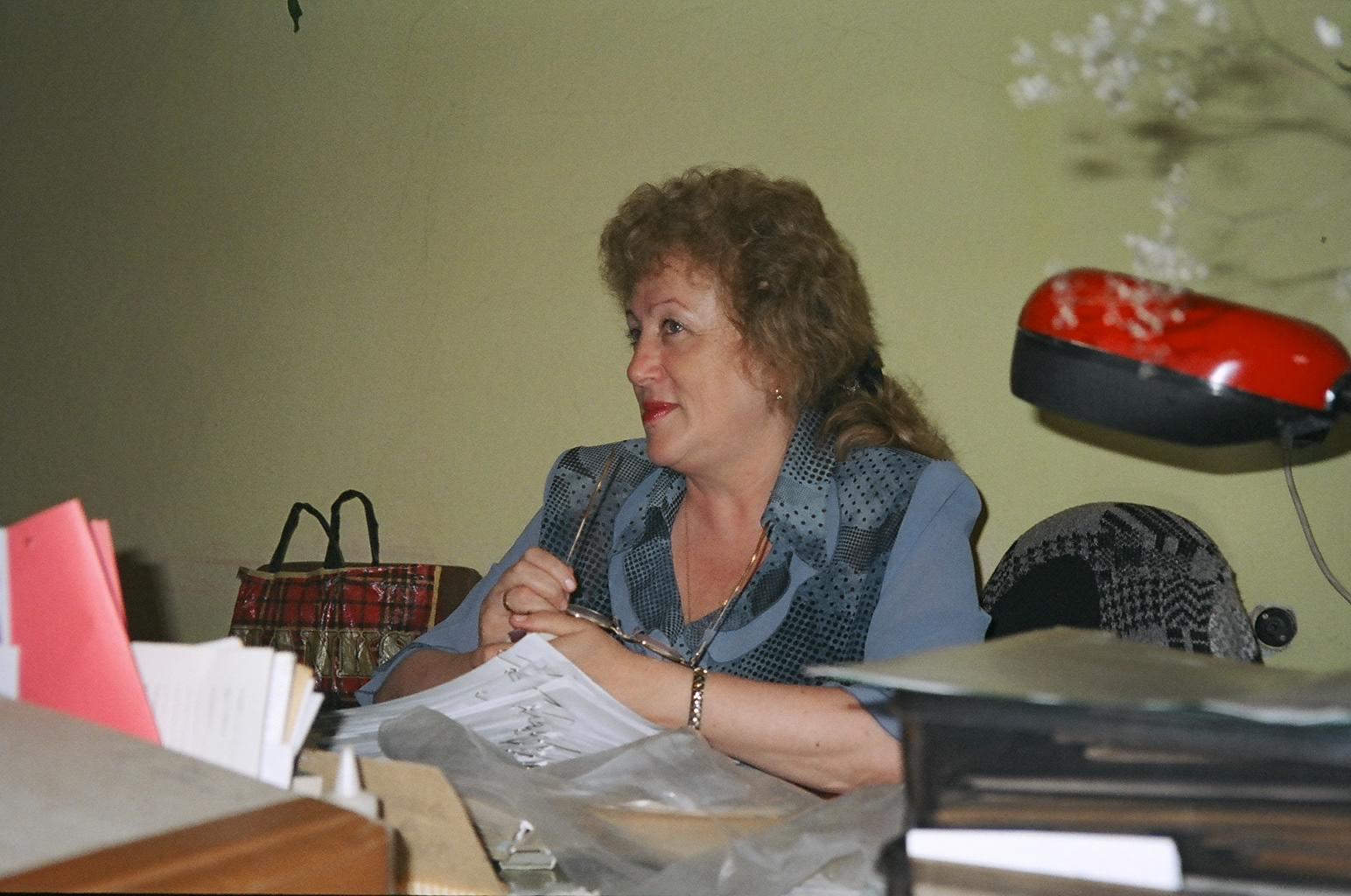 Dr. Vinokurova Faina Avramivna,
Vice-Director of the State Archives of Vinnitsa Region at her office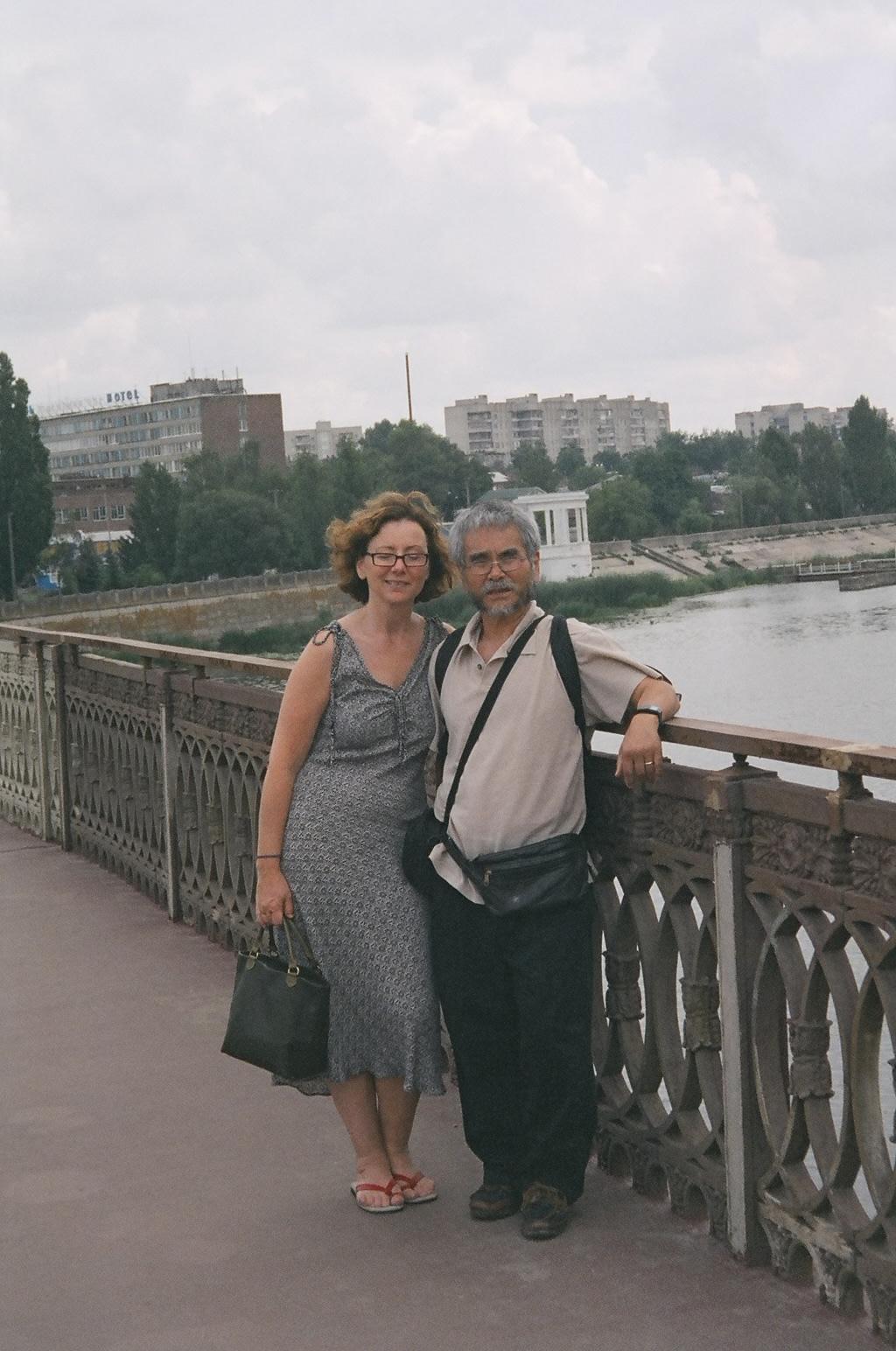 Kosistkovo Bridge over the Southern Buh River looking south at the Old City, the former Jewish quarter, "Yerusalemka" @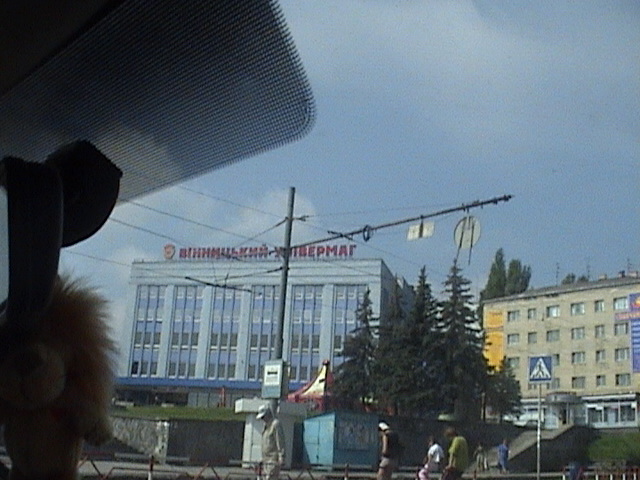 The Vinnitsa Department Store
Vinnitsa, Podoliafs largest city, reminded Norimi of Market Street in San Francisco during the 1970s, when they were constructing BART, the Bay Areas underground transportation system. The main street of Soborna leading to the Kosistkovo bridge over the Southern Buh River was dug up, exposing soil while the century year old street cars ran along the chain-link fence built to prevent pedestrians from crossing the street car tracks. Norimi and Heidi had to find a break in the fence in order to make their way to the other side of Soborna Street.
We stayed at gHotel Ukraineh, at 36 Kozitsukovo, in the heart of the city for nine nights.
According to UKRAINE, THE BRADT TRAVEL GUIDE, when Podolia was declared a Russian province in the 18th century, Vinnitsa was made its capital and quickly assumed its role in providing the empire with sugar. The travel book states, gDuring Soviet times, Vinnitsafs population nearly reached 400,000 but has been declining since independence. These days travelers come to Vinnitsa in remembrance of the Jewish past and to visit the outlying rural areas.h The last sentence refers exactly to the reason Norimi and Heidi of the Pervin Tree were in Vinnitsa.
From Vinnitsa our targeted locations of Litin, Bagrinovtsy, Kalinovka and Sharogrod are all within commuting distance so that we could make a round trip of all villages in one day. Above stated cello or shtetles are all birthplaces or residences of the Pervin family who immigrated to Toledo, Ohio and Detroit, Michigan. According to Samuil Yakovlevich Pervin, the patriarch of the Pervin Tree V, Samuil and his children also lived in Vinnitsa for some years before they moved to Moscow. Two of Samuilfs daughters immigrated to Pittsburgh, Pennsylvania. Bertha Pervin, the younger sister of Luba listed in her ship manuscript that her mother resided in Vinnitsa when she departed in 1913. Samuil stated, in fact, he was teaching at the Jewish College in Vinnitsa where he was invited to teach in 1911.
Vinnitsa was heavily destroyed by the warfare in World War II.
@